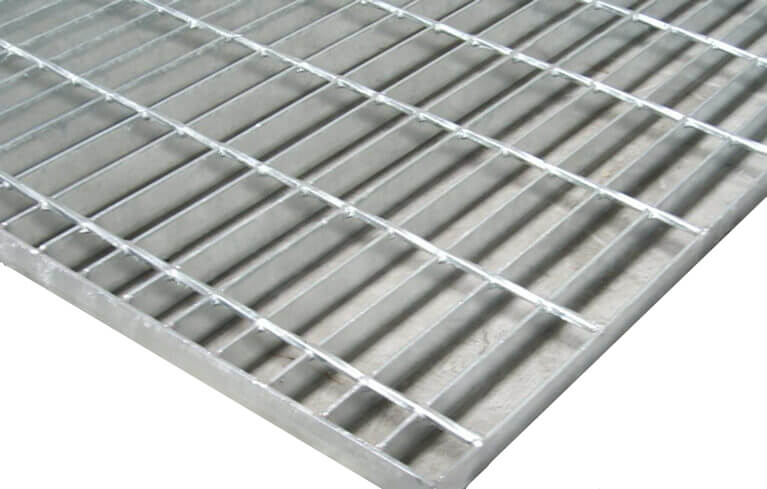 Description:
    Steel bar grating is one of our main grating products,also know as press weld steel bar grating.Due to the extremely strong and durable for all the bearing application,which become the most popular grating in the markets.The stability makes them have a much higher performance in the application.
Materials:         Mild steel,Stainless steel
Surface treatment:          Galvanized or Original
Specification:
Cross bars : Dia. 5mm,6mm,8mm (Round bar)/5*5mm,6*6mm,8*8mm (Twist bar)
Cross bar spacing : 40,50,60,65,76,100,101.6,120,130mm, etc.
Bearing bars : 20*5,25*3,25*4,25*5,30*3,30*4,30*5,32*3,32*5,40*5,50*4… 75*8mm, etc.
Bearing bar spacing : 20,25,30,32.5,34.3,40,50,60,62,65mm
    Steel bar grating is available in a variety of bearing bar spacing,thicknesses and depth according to the applications and loading requirements.
They are also available in either smooth top or serrated for anti-slip.

Application:
Steel bar grating is widely used in flooring, catwalk, mezzanine,decking, stair tread, fencing, ramp, dock, trench cover, drainage pit cover, maintenance platform, wash rack, ventilation screen, storage rack, suspended ceiling, window and machinery safe guards, factory, workshop, motor rooms, trolley channel, heavy loading area, boiler equipment and heavy equipment area.